What Is The Noom Food List – And What's the Noom Weight Loss Program
What Is The Noom Food List – And What's the Noom Weight Loss Program
If you're looking to lose weight and eat healthier, you may have heard of the Noom Weight Loss Program. The Noom food list is a key part of this program, and it's designed to help you make healthy food choices when it comes to what you eat and can help you on your weight loss journey.
In this blog post, we'll take a closer look at the Noom food list and how it can help you lose weight in a healthy way. Keep reading to learn more!
What is the Noom Food List?
This extensive food list uses the study of calorie density, and a color-coded system (green, yellow, and red), to give you enough calories for the required energy while at the same time creating a calorie deficit for losing weight.
The best part is that you'll eat a combination of healthy foods mixed with the foods that you really want to eat.
Noom Uses Evidence-Based Science
Noom has a large team of scientific experts with PhDs and masters degrees in such areas as integrative medicine, neuroscience, and psychology.
They are behavioral health experts with over 40 peer-reviewed scientific studies and articles that demonstrate how effective their methods are.
What Is the Noom Diet Plan?
The Noom Diet plan uses a unique app that helps people lose weight in a healthy and long-term way. This diet app categorizes the food choices into three different colors according to the calories they contain.
On the Noom food color chart, the colors that they use are green, yellow, and red. Let's go over the colors in more detail.
Green Foods are the least calorie-dense and also the highest nutrient-dense foods. The green foods list has lots of fruit, vegetables, and high protein food such as broccoli, carrots, tofu, etc.
All the foods on the green list have fewer calories and should make up the majority of your diet.
Yellow Foods are slightly more calorie-dense but still nutritious. The yellow foods list contains more lean meats and starches such as chicken, fish, and pasta.
Yellow foods should make up a more moderate part of your daily diet.
Red Foods are the most calorie-dense and least nutritious. Examples of red food are red meat bacon, butter, french fries, potato chips and cheese.
Noom recommends you limit red foods in your diet.
How Does Noom Work?
So what is Noom about? The way it works is that the Noom approach uses your personal information to create a specific weight loss plan for you.
The plan helps you change your eating habits, make healthier food choices which ultimately helps you to lose weight.
Purchasing the Noom Diet subscription opens up a personalized coaching option as well as a fully customized diet plan.
Check out our Full Noom Diet review in this article: Does the Noom Diet Work.
What Is the Noom App?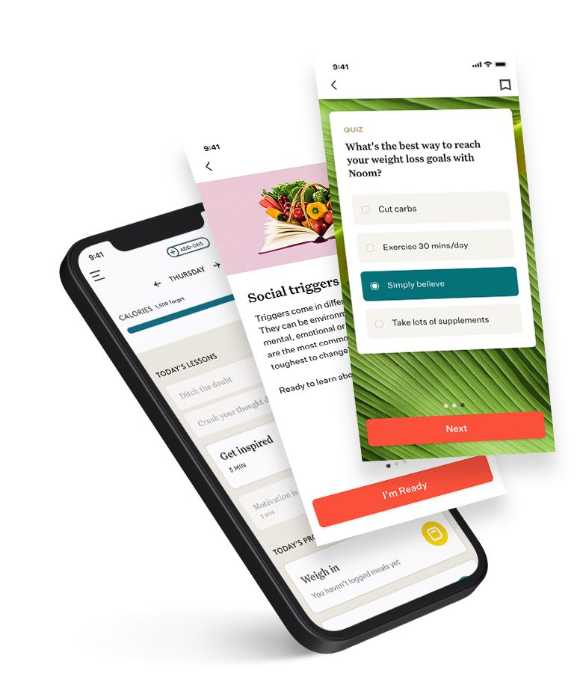 This app almost tricks you into weight loss with its ability to get you to build healthier eating habits. Besides the daily food lists, Noom also provides you with a coach who creates achievable weight loss goals for you.
When you first start using the app, you have to answer a list of questions. This helps your coach get to know more about your health, age, gender, lifestyle, eating habits, and much more.
The questionnaire even delves into questions like whether you dine out more or not, or how much inactive time that you have during your days.
After this, your Noom diet coach will begin giving you recommendations of what you can eat and what you need to avoid.
You will also get access to some built-in tools that are great for keeping an eye on your fitness, blood pressure, food intake, and blood sugar.
There will be tips and quizzes that you can use along the way. All of the Noom suggestions are brief so that you can understand them easily.
Noom Diet Plan Food List on the App
As we have already discussed, the Noom app gives you advice according to the calorie density of the food items. The calorie density or negative calories is the measurement of the calorie amount in any food relative to its volume or weight.
Consuming foods with negative calories can help you lose significant weight. It tricks your body and helps you to reduce your calorie intake while eating larger portions of food.
For instance, 100 grams vegetable with 30 calories has a low-calorie density. However, 100 grams of chocolate with 550 calories has a high-calorie density. Hence, adopting this approach, the Noom diet can have a great impact on your body's weight loss.
How does Noom compare to weight watchers? Check out this comparison to find out: NOOM VS WEIGHT WATCHERS
Noom Diet Food List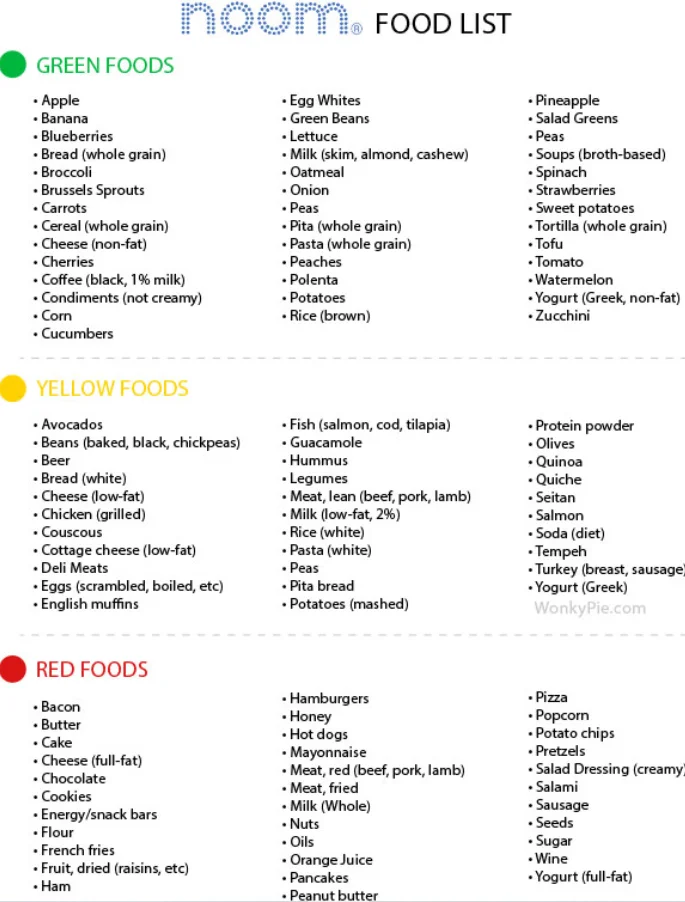 What Is the Noom Food List?
The above is a the official Noom printable food list, but here is our brief summary of the Noom food categories. Because the food list is organised by color it makes this chart super easy to understand.
Noom Green Foods List
Fruits: strawberries, blueberries, bananas, tomatoes, apples, oranges.
Hearty veggies: sweet potatoes, broccoli, carrots, cucumbers, spinach
Dairy: non-fat Greek yogurt and non-fat cheese
Whole grains: oatmeal, brown rice, almond milk, and tofu for Noom green protein
On the Noom chart, the "Noom green foods" are the best foods to eat. These are easy to see with their bright green colors on the app.
All of these nutrient-filled foods are great for the digestive system. Not to mention, you will feel energetic the entire day after consuming these foods.
With green foods, Noom helps you add these items to your daily eating ritual. This enables you to have a better chance to meet your daily, weekly, and monthly weight loss goals.
Noom Yellow Foods List
Lean protein, such as salmon, grilled chicken, and tuna
Legumes: chickpeas and black beans
Low-fat yogurt and milk, including eggs and cheeses
Grains such as couscous and quinoa, as well as alternatives such as whole-grain tortillas
The Noom app has added these foods to the yellow list because they are slightly denser in calories than those on the green list.
The app recommends you to consume them in smaller amounts along with the green list foods.
Noom Red Foods List
Oils: coconut oil, olive oil, and avocado oil
Processed meat: bacon, ham, salami
Guilty pleasures: hamburgers, chocolates, fries, pizza, potato chips
Condiments: Ranch, mayonnaise, dressing
Sugars: sweets, candy, chocolate, sugary fruit juices
Noom red foods are high in calories, sodium, sugar, saturated fats, and processed carbohydrates. You are not required to eliminate these foods from your diet completely, but you should only consume them in moderation, and even better avoid them as much as you can.
If you eat them on your cheat day, try to consume green list foods for the remaining meals of the day or spend a few more minutes in the gym.
How Do You Get Enough Protein on Noom?
You can get enough protein on Noom by including a variety of plant-based and lean animal-based proteins in your diet.
For example, you could have oatmeal with almond milk for breakfast, grilled chicken salad for lunch, and quinoa with black beans for dinner. You can also supplement with vegan protein powders if needed.
Does Noom Track Protein?
Protein is an important nutrient for weight loss and overall health, so it's important to make sure you're getting enough of it each day.
While Noom does not specifically track protein intake, it does provide general guidelines for recommended protein intake. You can find these guidelines in the food database on the app or on the Noom website.
Can You Eat Eggs On Noom?
Yes, you can eat eggs on the Noom diet, they are on the yellow list. Eggs are a great source of low fat protein and other nutrients, and they can be included in your daily meals. In fact, the American Dietetic Association recommends that healthy adults eat an egg every day.
What Is a Noom Coach?
The Noom Coach is what really sets the Noom Diet ahead of other diet programs and is a major part of this weight loss apps success. This healthy program allows you to access your nutrition coach when you want.
They are contacted through the chat option offered on the app. You have one to one access to your coach, who will be assigned to you soon after purchasing the program. Coaches don't charge an additional fee for their service, because Noom determined that extra charges is one reason why many diet programs fail.
Your Noom diet coach is a really good source of motivation and information. The plan that they make is specially designed for you and is easy to follow.
Noom Coach features a system that lets you:
Get guidance from your target professional (coach)
Ask diet and health related questions
Review motivation and progress updates
Access instructions for exercising and diet
Learn which foods to add and foods to avoid
Connect with the people in your group
You can access your Noom Coach at any time during regular working hours. Have a question about the colors of food? Or want them to help you with an action plan for dinner on your night out? Your coach is there to help.
See my FitTrack Smart Scale Review
What Does Noom Cost?
Noom only charges $59 per month for the entire Noom Diet plan, or there is a $99 two-month plan.
It's important to know that the majority of Noom customers have their best results within the first 16 week period. Because of this, Noom recommends the 6 month program for a much larger discount at $150.
Feeling worried that you might not like this app? Don't worry, you have an option to sign up for a 7-day free trial. If you don't like your Noom program during your trial duration, you can cancel the program without any charges.
In case you forgot to cancel your trial, you will have to pay $59 on the 8th day. FYI, they will continue to charge you for months until you cancel it.
Another thing you might need to know is that Noom also offers a Noom Diabetes Prevention Program. You can also buy this program for $89.99 per month. It is even more beneficial than the healthy weight program because it focused on controlling your blood sugar.
How To Cancel Noom Subscription
Noom Diet is not a scam, so follow these steps to cancel the Noom subscription:
Open the Noom App on your device.
Click the chat button in the upper right corner of the app screen.
Write the message to your coach that you want to unsubscribe.
They will send you a link for further process.
You need to understand that uninstalling your app without going through these steps will not unsubscribe from this app. And you will get charged for it after their Noom free trial period.
SEE THE 12 BEST AT-HOME GYM EQUIPMENT FOR 2021
Noom Diet Food List Conclusion
The Noom Diet program is the best way to lose a large number of calories without losing strength. When signing up, they ask you many important questions about your lifestyle and habits.
With this information, they can give you the amount of time it will take to lose the amount of weight that you want.
Their app is designed well and is easy to follow and doesn't necessarily require an exercise program. A personalized Noom health coach will even help to guide you along the way.
The Noom Diet Plan is a short-term program but designed for long-term results. This is because the science behind it is based on changing the way you think about food.
If you would like any more information or have any questions on Noom, does it work, please leave a message below.